Why CamSum?



What do we bring new to the cam events? Why you should bet big on CamSum & EroAward?



Why going to Adult Industry events?



The international events (summits, awards, congresses, conventions, gatherings, etc.) dedicated only to LiveCam Industry started in 2014. Luca from CamMillionaires.com offered a very complex and complete description on how models can benefit (more) from these events, in September 2015, in Payoutmag article. So, not only that we explained best "the classics", but we also proved our capacity to bring new ideas to seduce the Adult Industry professionals and design those events that they search for. So, why not organizing a cam event (summit + awards), where we can implement ALL our innovative ideas to offer the best in knowledges, business contacts, networking, promotion, branding and income diversification solutions for the LiveCams and Porn industries, that can result in VISIBLE earnings increase? Of course, we, as adult industry events participants for more than 10 years, would advise anybody to go to as many events as posible! But, in the end, not all bring the same amounts of knowledges, business contacts and money in your pockets. And CamSum & EroAward main goal is simple:

more money in your pockets!





Why Models from LiveCams or Porn should come to CamSum?


- #Power2TheModels - Where #ModelsDoBusiness! Our events focus on models and give them a very active role! We don't want to limit them at a pasive role where they only listen to what others say while enjoying the free drinks/parties. We encourage them to create our business events, to step in front, show initiative and to think and behave like business women/men as THE MOST IMPORTANT way to grow their earnings!
- get the BEST knowledges & tips about Social Media, Branding, Income diversification and Viral Promotion!!! In the last 2 years, Luca from CamMillionaires had full rooms at his seminars from the european events and people staying 40-60 minutes over the time scheduled to listen the original and visionary approach about models promotion!

You can't get this at other summits or congresses!!!!!!!! ;)


- many seminars to exchange knowledges with other models and learn from the best professionals;
- a place to see and to be seen, to learn and to teach;
- networking with other models to promote each others;
- networking with webmasters and models promoters to get more traffic;
- appear in B2B and B2C magazines, newspapers and even televisions;
- cutting special deals with the cam sites or porn producers! ;) You have no idea what special deals you can get in a real meeting!!!
- great weather, nice beach & awesome parties.



Why LiveCams Sites should come to CamSum?


- some LiveCams sites complain that the models are mainly from 2 countries: well, at CamSum we help you DIVERSIFICATE, by bringing A LOT of models from all over the world, including a lot from Porn who don't know about the cam opportunities or are directly interested to learn about it! We know the Spanish market very well and we can bring a lot of NEW FACES that you don't see at others events and a big number of models! As events focused on Models (#Power2TheModels) our goal is to bring together the biggest number of models at a professionals meeting event!
- offering to cam sites what they most search: models from Porn!
- many independent models and studios;
- networking with webmasters and other traffic providers;
- appear in B2B and B2C magazines, newspapers and even televisions;



Why LiveCams Studios or Porn Producers should come to CamSum?


- bring your models to be seen and to learn from others, to network with other professionals and to grow from all points of views;
- network with other models, webmasters and camsites;



Why should Webmasters or Models Promoters from LiveCams or Porn should come to CamSum?


- get in touch with models or studios, and cut special deals in exchange of your promo services.
- networking with other webmasters and traffic providers, exchange knowledges and do biz;
- appear in B2B and B2C magazines, newspapers and even televisions;



The most Innovative events



– Spain, summer, beach & pool parties;

Spain is definatelly THE BEST location for any summit…and if it's near the beach, in the summer, is the Paradise for an Adult Industry summit! Right, beaches? :)
Lloret De Mar is one of the busiest tourist town in Spain, the synonym of Ibiza, with lots of young people, nice beaches with crystal clear water, good restaurants and hotels, lots of parties day and night…For models, the best places to play are the beach and the pools, so we have a rich offer of sports and parties at the pools and on the beach: beach voley, beach party, water sports, funny contests and Ibiza pool party! Aren't you wet, already¿ ;)

– Entertainment

What is a LiveCam or Porn model? An entertainer! So, why not put them at work and ask them (nicely) to entertain us, or, the best: let's entertain each other! Why hire other people for this? We can save the money and invest them in more drinks and food! :)

– Miss CamSum

Miss CamSum show will bring lots of fun and surprises!

– EroAward gala: #Donate2Wiki - Culture is SEXY!

A very important part of our award ceremonies will be the charitable one, with the money going in 2 main directions: sponsoring Culture and People in need. Our 2017 edition will continue to raise money for Wikipedia - the free encyclopedia, because we strongly believe that it was the free access to informations and knowledges that created the Adult Industry Revolution, and this revolution will grow even bigger only if these knowledges and the access to them increase, too! In the same time, "Culture is sexy!" is our bet on culture as representing one of the most powerful tools for being attractive, both on cam or LiveCams, on social media as everywhere in real life. Maximum transparency is offered for how much money will be raised and how they will be alocated. Feel free to come with new ideas about the destinations of our donations.

– more surprises to cum…;)



The most International



We have asked many models, studios, trainers, porn producers, webmasters and other professionals from Adult Industry, what makes a great summit, and almost ALL considered it very important to have a big mix of nations, so they can communicate in different languages, learn new things from other cultures and…have more fun! CamSum is not focused on a country or on a continent, like other events, so, practically, we want to be "the meeting point summit" for ALL, although we also bet on a high participation of professionals from Spain! :)



What kind of NEW event would you like?



Use your Creativity and go beyound of just asking us "Is there necessary a new Adult Industry event? Aren't they already too many? :) Why should I attend CamSum & EroAward?" and tell us what kind of new events you would like to see...and let's brainstorm it and create them TOGETHER!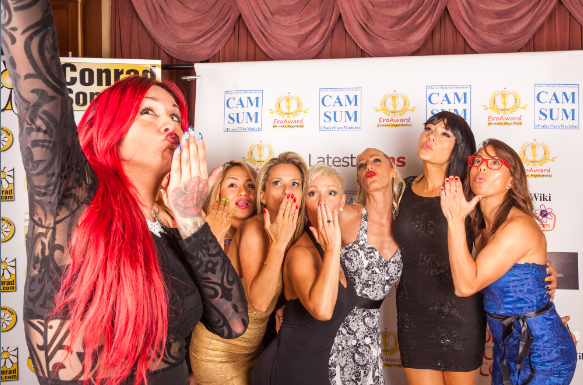 Kiss!